Take your teaching to the next level
What Confident Training Instructors Are Saying
Great trainer !!! Motivating, energetic, very clear explanations. Very attentitve to group as well as individuals. Clearly stated issues to improve on and pointed out solutions. Nathalie created a friendly and welcoming atmosphere. She was very attentive and had a wide variety of teaching styles, especially because of her background of teaching in various countries.
You are amazing ! Thank you for spending the time. Both Ben and I thoroughly enjoyed our ski instructor course and are now extremely keen to go for our next certification. We really felt welcomed by the fraternity of instructors. Terry told us you were the most requested instructor of the ski school this season, and I can certainly understand why. Your lovely friendly manner and willingness to help are an inspiration. 
In conclusion, an amazing instructor. Thank you !!! And keep on doing this ! Very energetic ! Took very much time for thorough and clear explanations ! Easily adapted to every individual and situation, always showing ways to improve ourselves, and how to teach the respective aspects ! Showed many different techniques/exercises to reach a specific goal ! Considered all questions/comments/ideas thorough and turned them into something useful for the group. Brilliant !
Awesome course conductor providing numerous educational tools. She adapts to every individual needs and comes up with very simple exemples and case studies to facilitate our understanding. I love the analogies that make every aspect idiot proof.
An awesome surprise from my trainees at the end of their Ski Instructor Course in Stubai, Austria.
Nathalie is open, committed, and exceptional in her field. She was able to demonstrate the importance of empathy, selfless kindness, and serenity in the art of teaching. An extraordinary course that makes us want to move forward in our certification path and learn and improve even more.
Nathalie gave her 150%. She went beyond the technical constraints to give us a holistic vision and practice of skiing, adapting continuously to each member of the group. Nathalie listens, coaches, encourages, congratulates, and provides us with solutions… by making sure that we are the ones who provide the solution. Brilliant ! She also knows how to receive criticism and feedback and integrates it in her skillful pedagogical mix. Her broad set of international experiences is a true plus. Nevertheless, she still shows great humility. She also helped me overcome my fears, blockages (and beliefs). Thank you !
Great advice on how to deal with beginners, especially kids. I learned a great deal from Nathalie's technical knowledge and in particular the way she explains how to use the diffrent parts of the body and how they relate to each other. 
Nathalie is a bomb when it comes to sharing and giving her time and her knowledge. An extraordinary person who opened my eyes to the awareness of being and how it shapes our relationship to our students – and the world.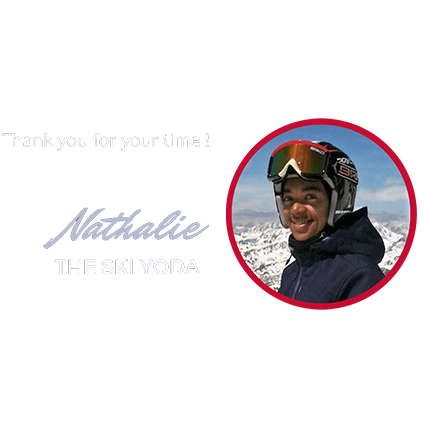 THIS IS WHY I LOVE AND DO WHAT I DO

Most Requested Ski Instructor of The Year.

"Your friendly manners and your willingness to help are an inspiration."
"This is the best ski holiday I've ever been on."
Join the Private Facebook Group