EXPLORE THE MOUNTAINS IN SNOW-MOTION
SKI DOWN THE SLOPES IN FLOW-MOTION
What Confident Skiers On Holiday Are Saying
Just a few words to say that our group at the CIBC Conference have greatly appreciated the skills of our guide Nathalie. Having experienced on several occasions in the past with other ski guides, we can say that today's experience was one of the better ones without any doubts."
What a fabulous week we had with you, thank you so much. Darrell was thrilled to have had wonderful days experiencing such magnificent terrain in almost perfect conditions. We just loved it and was so thankful for your superb guidance which, without doubt, makes skiing in unknown territory an absolute pleasure. The company was fun and the entire experience a memorable one. Many thanks again for your expertise and good company.
We have the wonderful memories of last week: the skiing and the huge amount that we learned, the accommodation and the wonderful meals, the lunches (Oh, the lunches!), the delightful company of you and Christine & Winston, and the lovely bonuses of meeting Wafik and Nicolas and both their families. What a fabulous week it was. Thank you so much.
We had a wonderful ski holiday. I cannot believe how well our kids are skiing.
You don't think you realize what a positive impact you have had on my husband and his renewed love of skiing ! He now owns his own pair of comfortable ski boots and intends to do a lot more skiing in the future. You are responsible for this ! Your teaching style and your patience has improved his physical and mental ability to ski and I thank you for that. Thank you for skiing with us in Davos.
Don talking about his experience on the trip
"A Taste of the French and Swiss Alps".
This is the best vacation I have had these years: fantastic resort, great snow, beautiful landscapes, food, wine, weather, skiing with you… Thanks again for organizing a great trip for us !
I'm sorry that the Lady Freeriders days are over, for me, this year!! Nathalie THANK-YOU for a really great few weeks. All of your great instruction will go to good use, believe me! It was a pleasure getting to know all of you – I really really enjoyed myself. Thanks and have fun – I'll be thinking of you! Happy skiing.
Michael is having a great time relaying his skiing adventures to family and friends. My husband loved looking at the photos and videos of him skiing  Once again he had an awesome time skiing in Banff   Thanks for all your help. You had a fantastic way with him, combing skill with just enough adventure to make it fun, challenging and exciting for him. We hope to see you next season.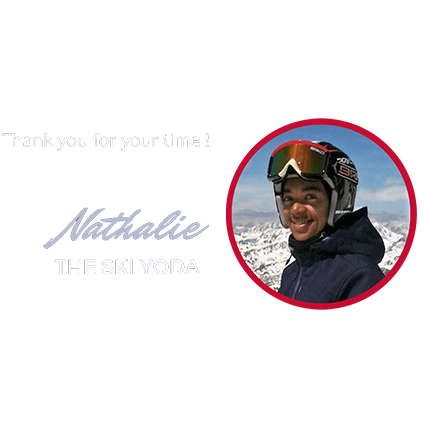 THIS IS WHY I LOVE AND DO WHAT I DO

Most Requested Ski Instructor of The Year.

"Your friendly manners and your willingness to help are an inspiration."
"This is the best ski holiday I've ever been on."
Join the Private Facebook Group