WELCOME TO SECRETS OF CONFIDENT SKIERS
The purpose of this website is to help you manage your fears and give you some tools and resources to overcome them, in order to unlock your potential and ski with confidence and flow. There is a way !
Follow the blog to stay up to date and join the private Facebook Group THE CONFIDENT SKIERS CLUB where you will be able to seek help, ask questions, and share your "aha" moments. With the ultimate goal in mind:
Explore The Mountains In Snow – Motion
Ski Down The Slopes In Flow – Motion
There's nothing like being inspired and getting the support of like-minded skiers willing to build their confidence on the slopes and transform their skiing to another level. You are not alone ! Hop on board now !
A BIT ABOUT ME :
My name is Nathalie Ouedraogo. I'm a ski instructor. My students call me the Ski Yoda. I didn't grow up skiing – being born… in Africa, in Ouagadougou the capital city of Burkina Faso. But I started as an adult when I moved to Canada after finishing my university degree in Hotel Management in Paris, France, and I caught the bug from day one. So much so that 10 years later, I decided to resign, quit my job, and do the leap of faith (my first one!): become a full-time ski instructor. If Africans can learn how to ski (let alone teach skiing)… well, there is hope for you ! 🙂
I have been chasing the snow year round from the Northern hemisphere to the Southern hemisphere, with two winter seasons and more than 250 days on snow (and in ski boots…) every year, to pursue my passion for skiing. And for people. Because it's all about people in the end. I am a people person, and even after 30 back to back seasons teaching skiing, snowboarding, telemark skiing, disabled skiers, as well as training instructors, I am more than ever driven by my passion and the pleasure of sharing it with snow enthusiasts alike.
My experience has taught me that teaching comes with great responsibility because you are in a position where you can influence and impact people's lives. Forever. Hence my motto:

When I touch other people, when my words impact them and my actions empower them, my life has more meaning and purpose.
To be an outstanding teacher, you need to not only believe in your students, no matter who they are, where they come from, and what's their ability level, but you also need to give them value, by setting a proper environment conducive to learning, and creating situations where they will achieve success.
"You haven't taught until they have learned" used to say UCLA famous basketball head coach John Wooden. It has always been my goal to take each and everyone of my students and clients to the next level, regardless of point A and point B, and the reason why I'm so enthusiastic and passionate about what I do. My wish is for you to learn as much from this website as if you were skiing with me on the slopes. Enjoy !
Confidently,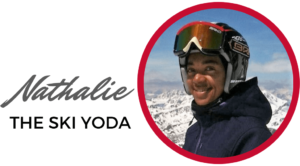 Join the Private              Facebook Group